For further information about Semantic Grid activities, or to provide comments or express interest, please use the Semantic Grid community mailing list or contact: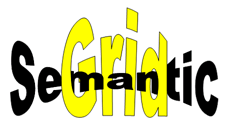 This Web site is hosted by the School of Electronics and Computer Science at the University of Southampton, UK. Originally developed for the UK e-Science programme, it now has additional support from the IST programme and the UK Joint Information Systems Committee. It is maintained by David De Roure.
The Semantic Grid research agenda started as an initiative within the UK e-Science programme by David De Roure, Nicholas Jennings and Nigel Shadbolt, and we are grateful to all our colleagues who have supported the promotion of these ideas.